Special Response Team
The Faulkner County S.R.T (Special Response Team) consists of eleven deputies, who are on call 24 hours a day, 365 days a year. The unit's specially trained personnel provide tactical response to hostage situations, barricaded persons, sniper and terrorism incidents, crowd control during major disturbances or riots, work or school place violence, and high-risk search warrant entries for various investigations including homicide, robbery, narcotics, and domestic violence. They also support the Patrol Division by responding to high-risk calls for service.
While the goal of every law enforcement officer is to save lives and de-escalate the potential for violence, there are times when a violent suspect must be prevented from killing innocent victims or bystanders. SRT marksmen are highly trained and disciplined to make precision rifle shots at several hundred yards away. The team also utilizes 'less lethal' weapons such as the Taser, less lethal ammunition, and various chemical agents - all employed to prevent the use of police firearms.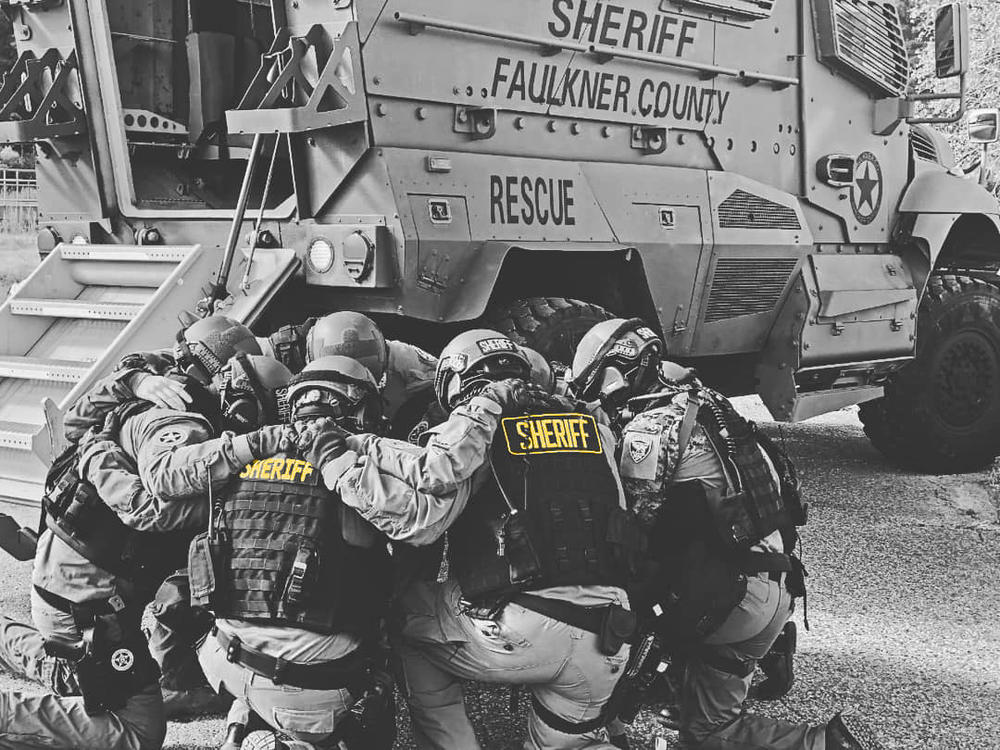 Mission Statement
The Mission of the Faulkner County Sheriff's Office Special Response Team (SRT) is to bring a successful conclusion to critical, high-risk situations through the use of specially equipped and highly trained personnel in such a way as to minimize the risk of harm to the citizens of our community, law enforcement personnel, and suspects.
This tactical team has the responsibility of answering to sensitive, potentially life-threatening situations utilizing specialized equipment and tactics to resolve them in as peaceful a manner as possible. This responsibility requires a great deal of training and readiness. Some situations may include: high-risk search and arrest warrant service, hostage rescue, and building searches for dangerous suspects.
The unit is prepared to assume full control of specific tactical situations which, by nature, would be considered excessively dangerous and complex or that would require the use of a specialized team effort, rather than independent action by individual deputies.

The SRT consists of a team commander, team leader, assistant team leader. The remaining team members make up entry personnel, perimeter personnel, and a marksmen team. The Faulkner County Sheriff's Office maintains trained hostage/crisis negotiators in a separately assigned function. The tactical team trains regularly in special weapons and tactics. The team also trains with other tactical units associated with fellow law enforcement agencies throughout Faulkner County.

The members of the SRT are assigned to different divisions of the department as their primary duty assignment. The SRT is a secondary assignment for which all members must be a fully qualified law enforcement officer in the state of Arkansas. They also must have a higher firearms proficiency qualification than that of a regular member of the Sheriff's Office.