Level 2 Sex Offender Arrested
06/09/2020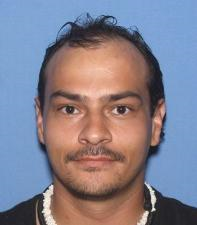 On Thursday May 28, 2020 at approximately 8:30 am, Eliu Irizarry was taken into custody by the Faulkner County Sheriff's Office. His charges were failure to comply with registration and reporting requirements as a sex offender a Class C Felony, and Registered Offender-Incorrect permanent physical address on identification cards or driver's license prohibited a Class D Felony.
On Friday April 24, 2020, Sex Offender Coordinator, Vanda Phillips, learned Mr. Irizarry was not employed where he had registered and an investigation was then opened. During the investigation it was also learned Mr. Irizarry had lived at his registered address since being released from jail on March 10, 2020 and had not updated his Arkansas ID.
Arkansas state law requires the offender to report any changes in residence, mailing address, temporary domicile, employment, volunteer, email, social network information, all information pertaining to any vehicle the offender owns or has access to in person to the local law enforcement agency having jurisdiction at the time of the change. When changing residence/mailing address or temporary domicile, this must be done no later than five (5) days before the offender establishes residence or temporary domicile unless otherwise indicated such as eviction or natural disaster. Mr. Irizarry never updated his employment information.
Pursuant to § 5-14-130(1) it is a Class D Felony to provide false information or obtain identification cards or driver's license with incorrect permanent physical addresses. Mr. Irizarry did not update his Arkansas ID with the correct address that he provided for his registration on March 10, 2020.
In addition to the above charges, Mr. Irizarry will be facing a parole violation warrant and a revocation from his previous conviction of Failure to comply with registration and reporting requirements as a sex offender. Mr. Irizarry is currently in the Faulkner County Detention Center.
If you know of a sex offender not in compliance or if you have questions regarding a sex offender or sex offender laws, please call Sex Offender Coordinator, Vanda Phillips at 501-450-4917 or e-mail her at vanda.phillips@fcso.ar.gov or you may submit an anonymous tip at www.fcso.ar.gov