Halloween Amnesty Day at Faulkner County District Court
10/17/2019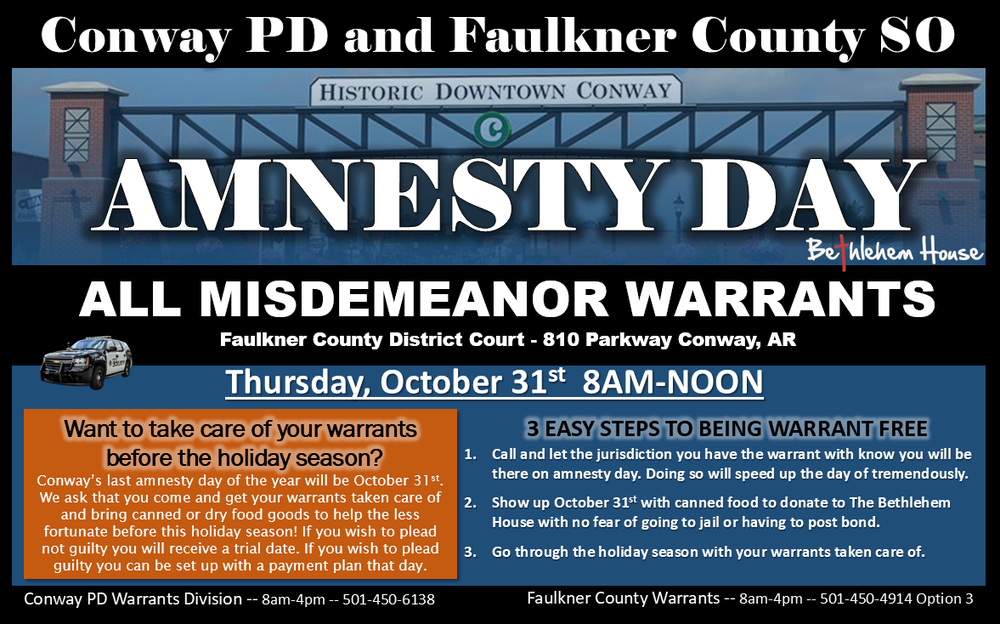 You know what's scary? Having a warrant, you know what is even scarier? Not knowing where your next meal will come from!! Faulkner County Sheriff Office along with Conway PD and Faulkner County District Court want to pair up with Bethlehem House to fix those two issues ahead of the holiday season this year.
On Halloween anyone with a misdemeanor warrant out of the City of Conway or Faulkner County SO can turn themselves in to the Faulkner County Court house at 8am OCTOBER 31st and be added to the docket to be seen by the Honorable Judge Reynolds on the same day. We just ask that you return the favor by bringing canned food to donate to the Bethlehem House. There will be no bond money needed that day and no worries about going to jail on your warrant. Earlier this year we offered the same opportunity and over 200 warrants were taken care of that day!
If you wish to plead not guilty that day you will be given another court date, if you wish to plead guilty and are worried about fines you can be set up on a payment plan.
We ask that prior to showing up you contact Faulkner County Warrants at 501-450-4914 Option 3 or Conway PD Warrants during business hours at 501-450-6138 to let us know you plan to be there to expedite the process the day of.
Conway currently houses 2000 misdemeanor warrants while Faulkner County SO has around 1300. A list of Faulkner County warrants can be found on their website.
ADAIR BRIAN
ADAMS LATOYA
ADDISON HEATHER
ALCALA JUAREZ GLORIA
ALIMESFER ALMAKHALAS
ALLBRITTON JOHN
ALLEN DAWNITA
ALLEN KYRA
ALLISON DOFFIE
ALVARADO JESUS
ANARIVA JOSE
ANDERSON MAIYA
ANDERSON SARAH
ANDREWS JORDAN
ANDREWS STACEY
ANGLIN GENE
ARCHER SHANNON
ARGUE SARAH
ARMSTRONG BARBARA
ARNOLD CLINT
ARNOLD JEFFERY
ASHLEY ALICIA
ASSINI CHERTCHAI
ATKINSON ASHLEY
ATKINSON GREGORY
AUSTIN EDWARD
AVALOS MELISSA
AVANCE KENNETH
BAILES JUSTIN
BAILEY STEPHEN
BAIRD JACKIE
BAKER BRIEA
BARBOR MARCUS
BARNES CLEOPHIS
BARNES FOUNT
BARNETTE STEVEN
BARNHART STEVEN
BARRERA ROGELIO
BATES DAVID
BATES WILLIAM
BAXTER ANDREA
BAXTER THOMAS
BEARD THOMAS
BEASLEY TERRA
BELCHER SHANNON
BELL JESSICA
BELMARES OMAR
BENEFIELD RUSSELL
BENNETT DELVIN
BENNETT ERIC
BENSON WILLIAM
BENTON VERNELL
BERGERON ALEXANDER
BERRY CHRISTOPHER
BERTOG BRANDY
BILLIOT KYLE
BLACK E
BLAKE MICHAEL
BLASCO BALDOMERO
BLEVINS DONNY
BOESE CONNIE
BOND MICHELLE
BONE TRENITTA
BOSTIC CHACE
BOUGHAMER BENJAMIN
BOULTON SHANE
BOWIE JAMES
BOWMAN ALEXIS
BOZEMAN DOROTHY
BRACKETT STACY
BRANCH BRIAN
BRANNON NATHANIEL
BRANNON SHAUN
BREWSTER JOSHUA
BREWSTER MELANIE
BRIDGEWATER JOHN
BRINEY RUBY
BRINKLEY GABRIEL
BROCK TAMATHA
BROCKWAY HENRY
BRONER MICHAEL
BROOKS DEUNDRA
BROOKS ROBERT
BROWN BILLY
BROWN JOE
BROWN JOSEPH
BROWN KATHERINE
BROWN TRACY
BRUNER KENNETH
BRYAN JONATHAN
BRYANT GERRICA
BRYANT TYRONE
BUCHANAN BRADLEY
BUFFKIN ANGELA
BULL TRACY
BUNT ERIN
BURL ANTON
BURNS STEVEN
BURROUGH VINCENT
BURROWS BRITTANY
CABRERA BRANDON
CADENA FRANK
CAGLE VICTORIA
CAIN HEKERYIN
CALDWELL CHRISTOPHER
CALION ANTWAIN
CALLISON SCOTT
CALZADILLA BRYAN
CAMAJA FELIPE
CANADY KATIE
CAPLINGER VICTOR
CARPENTER NEIL
CARRILLO AMANDA
CARROLL HOPE
CARROLL THOMAS
CARSON CRISTINA
CASEY CHRISTOPHER
CASTEEL CHRISTOPHER
CASTILLO-CASTRO ROGELIO
CASTRO IVAN
CATT JOHN
CERVANTES ENRIQUE
CHAMBERS MICHAEL
CHANCE MILTON
CHANDLER BRIAN
CHANEY WAYNE
CHEATHAM AMANDA
CHESIER DARIAN
CHESSER RISA
CHIN KIM
CHINCHILLA PEDRO
CHOC FRANCISCO
CHRISTIAN BRANT
CHURCH AUSTIN
CIABATTARI MEAGAN
CLARK BILLY
CLARK EDGAR
CLARK MANDY
CLARK STEPHANIE
CLARK TRAVIS
CLAUSEN DERRICK
CLEMENTS JEFFREY
CLEMENTS TERESA
CLEMONS MIKEL
CLEVELAND RICKEY
CLIFTON BENJAMIN
CLOER CLIFTON
COATS JEFFREY
COBB DAVID
COLES DELORA
COLLIER LAMIA
COLLINS LINDSEY
COLLINS SLY
COLVIN BRANDY
CONLEY ERIC
CONLEY JULIA
CONTRERAS XAVIER
COOKSEY STEPHANIE
COOPER AUDREY
CORIA PEDRO
CORKIN AMY
COTTON CHARITY
COX TYLER
CRAIN DANNY
CRAWFORD GREGORY
CRAWFORD HALEY
CREWS CHARLES
CRISWELL MAURICE
CROOK ALFI
CROSTON EBONIE
CROWTHER RAYMOND
CRUZ-RAMOS BRYAN
CURTIS BRITTANY
CURTIS JOSHUA
DAILEY ORLO
DARBY RICHARD
DAUGHERTY JASON
DAUGHERTY VICTORIA
DAVALOZ ANGEL
DAVIDSON DAVID
DAVIDSON GERALD
DAVIDSON MELISSA
DAVIS BILLY
DAVIS JEREMIAH
DAVIS JIMMY
DAVIS KENNETH
DAVIS KEVIN
DAVIS LYKA
DAVIS PATRICK
DAVIS ROSE
DAVIS TERRANCE
DAVIS TISHE
DAWSON CALEB
DAWSON RAY
DAY ALVIN
DEAN ROBERT
DEANDA RODOLFO
DEBOSE/ROBINSON IRENE
DEDMAN ROSS
DEFFAND KOUAME
DEITZ JESSICA
DELAHOZ VICENTE
DELANEY CRYSTAL
DELEON JUAN
DENIS PAISLEY
DENTON DONEVIN
DEVOE ANDREW
DIAZ BANEGAS LESBI
DIGGS QUINTIN
DIXON CHAUNCEY
DIXON LIAM
DOBBINS CASIDY
DOBBINS RODNEY
DONALDSON EDWARD
DORN KENNETH
DORNAN DENNIS
DOST TYLER
DOWELL LESLEY
DOYAL ROBERT
DOYLE TABITHA
DUERR MARCHETA
DUNN SAMMY
DUNN TARON
DUNN TERI
DURALL SHEILA
DUREN THOMAS
DYCUS MARGARET
EAST RODNEY
EDWARDS DAVID
EDWARDS JESSIKA
EGGERSON LEMONTRELL
EICHORN CANDY
ELLIS WENFRED
ELSWICK MYLES
EMMERLING MARSHALL
ENGLAND PATRICIA
EPTING CHRISTIAN
ERMERT KIMBERLY
ERWIN GARY
ESCOBAR ANTONIO
ESCOTO-SERRANO ELVIN
ESTRADA ISMAEL
EUSSEN GEORGE
EVANS BRIDGETT
EVANS KELLY
EVERETT KENNY
FABIEN ABEL
FARRIS-KING ANTHONY
FASON TODD
FEDOKOU FEDIR
FERGUSON CRYSTAL
FERGUSON JORDAN
FERRIN CHRISTINA
FIGUROA-HERNANDEZ KELIN
FINLEY DAVID
FIPPS JAVARIS
FISHER CHASE
FISHER JAMES
FLETCHER M
FLORES DEBORA
FLORES ERIC
FLORES CASTRVITA SILVIA
FLOYD ASHLEY
FLUKER ZACHARY
FORNESS WENDY
FOSTER JARRELL
FOWLER KIJA
FRAMEL JOHN
FRANCO RAUL
FRANKLIN NUKKIMA
FREEMAN ASHLEY
FREEMAN PATRICIA
FRIANT DANIEL
FRIEND ERIC
FRYAR ETHAN
FULTON CALON
FULTON ROBERT
GAHAGEN KEVIN
GAMEZ-CRUZ ISIAS
GANTT RAJHAN
GANTT RAJHAN
GANTZ TERRY
GARBERS TONYA
GARCIA-GARCIA JOSE
GARNER AARON
GARNER CHARLES
GAY RICHARD
GAYLORD STEPHANIE
GEORGE DOYLE
GIFFORD TAMMY
GILLIAM DYLAN
GINGSUMRONG SUPHAN
GLOVER BOBBY
GLOVER KARL
GLOVER NORMAN
GLOVER ROYCE
GOMEZ VALENTINE
GOMEZ YILDA
GONZALES JUAN
GONZALES MIGUEL
GONZALEZ ALMA
GONZALEZ CESAR
GONZALEZ JAKKOB
GOODEN DEAN
GOODIN NICOLIA
GOREE BRITTANY
GOSS JOSEPH
GRANT SHEA
GRANT TAMMY
GRAY AMANDA
GRAY CHRISTINA
GRAY FALON
GREATHOUSE JOHN
GREEN ERIC
GREEN LAQUONNE
GREEN SAMUEL
GREENE AUSTIN
GREER DESHAWN
GRIFFIN WILLIAM
GRIGSBY CHRISTAPHOR
GROSE SHAWN
GUY GLADYS
GWATNEY TERRY
HAASE JAMES
HALBROOK ARLENE
HALE ANDREW
HALL CORY
HALL JENNIFER
HALL JUDY
HAMILTON ALEXANDER
HAMILTON GREGORY
HAMILTON KIMBERLY
HAMMOND DARRELL
HAMMOND KATHY
HANKS CYNTHIA
HARDY JOSHUA
HARGE LATESTA
HARJO TOMMY
HARLAN HOLLY
HARPER DALE
HARPER KIMZEY
HARRIS BOBBY
HARRIS BRANDIE
HARRIS MEGAN
HARRISON BILLY
HARROD GLENDA
HARROD ROGER
HART LOIS
HARTLEY JAMES
HARTMAN MATTHEW
HARTMAN MELANIE
HARTSFIELD TASHA
HAWKINS DEBORAH
HAWKINS KEITH
HAY FRANKLIN
HAYNES CAITLIN
HAYNIE WILLIAM
HAYWOOD EDDIE
HEARD TAMARA
HEFLIN CARRIE
HELMS ASHLI
HENDERSON CORY
HENDERSON DORIAN
HENRIKSEN NATASHA
HENRY ASHLEY
HENSHAW DONALD
HERBERT KELA
HERNAN JAVIER
HERNANDEZ ANGEL
HERNANDEZ EZEQUIEL
HERNANDEZ MOISES
HERNANDEZ-CAVERO ARMANDO
HERSH DONALD
HERVYNA KELLY
HICKS KATHEY
HIDALGO ROGER
HIGGINS BRITTANY
HILARIO MIGUEL
HILL DERRICK
HILL ERICA
HILL JOHNATHAN
HILL LOREN
HILL TIMOTHY
HINTON AYANNA
HITE BEVERLY
HO HUNG
HOBBS ASHLEY
HOBBS JOHN
HODGES MICKEY
HOLBERT SCOTTY
HOLDRIDGE DEBRA
HOLLINGSWORTH KYLEE
HOLLIS RONALD
HOLMES MISTY
HOOD AMY
HOOD CHRISTOPHER
HOUFF JAMES
HOUSE KIMBERLY
HOWE RICHARD
HUBBARD MICHAEL
HUDMAN TRACY
HUDON RICHARD
HUGGINS DOMINICE
HULETT WILLIAM
HULL JUANITA
HULSE KEVIN
HUNT BIRDIA
HUNTER BRANDON
HUNTER TRAVIS
HUNTLEY SHELLY
HURTADO AUDRA
HUTCHINSON MARGRET
IBRAHIM SOUMANA
INMAN TIMOTHY
ISENHOUR JOSHUA
ITZEL ZUREYDA
IVORY JAHMAR
JACKSON BRENDA
JACKSON DEVAN
JACKSON ELIZABETH
JACKSON MICHAEL
JACKSON MONICA
JACKSON TRENCY
JAMES CATHERINE
JAMES MICKEY
JARRETT TERRANCE
JARRETT TYJUANA
JAYROE DAVID
JEFFRIES RANDY
JEMISON ARNOLD
JOHNIGAN RIKKI
JOHNS BILLY
JOHNSON AMBER
JOHNSON BETTY
JOHNSON CHRISTOPHER
JOHNSON COLTON
JOHNSON DATRON
JOHNSON LASLIE
JOHNSON MILDRED
JOHNSON RUFUS
JOHNSON SARAH
JOHNSON SHALONDA
JOHNSON VINETRIA
JOHNSTON MICHAEL
JONES ANDREW
JONES BRENDA
JONES CATHERINE
JONES CYNTHIA
JONES DONOVAN
JONES ERIC
JONES JAMES
JONES KATRINA
JONES MARCTEDZE
JONES MICHAEL
JONES SHEENA
JONES TODD
JORDAN GREGORY
JOSEPH SHAWN
JOSH VICTORIA
JOSHUA DECEDRIUS
JULIEN DAVID
KAMDAR ASHOK
KEATON GLENN
KENDLE BRITTANY
KEPLING JAMES
KIGGENS TERESA
KILGORE DAVID
KINCARD LENARD
KING CARLTON
KING LEVI
KIRKYASAROGLU YUSUF
KITE ROBERT
KLIMOV WACHESLAV
KNIERIM DOUGLAS
KNOX KURTIS
KOLB DAVID
KOOB CODY
KOPP JOSEPH
KOSKI LAURITA
KUITKO ALEXANDER
KUMPE COURTNEY
LACEY STEVEN
LACKEY AMANDA
LACY ERICA
LAMB JENNIFER
LAND HEATHER
LANGLEY SCOTT
LARIMER NICHOLAS
LAYNE KEVIN
LEDBETTER JAMES
LEE JOSHUA
LEE ZEBUELIN
LEGILL MATT
LEONARD ALEX
LEOTA TERISA
LEROI GRANT
LEWIS JONATHON
LEWIS MICHAEL
LEWIS ROLAND
LIGON ALESHIA
LILES ADAM
LIMKARY DRILE
LINDH KRISTIN
LINN TRACY
LITTLE ANGELA
LOFTIS MARY
LONG DONOVAN
LONG JESSICA
LONG MICHAEL
LONG MICHELLE
LONG NATHAN
LONG ROBIN
LOONEY DENNIS
LOPES MELISSA
LOPEZ EVELLA
LOPEZ JESSICA
LOPEZ-GONZALEZ MANUEL
LOPEZ-MATUS PAULION
LOXTON SHERRY
LOZANO CLAUDIA
LUKER DEBBIE
LUNA-GUTIEVEZ SONIA
LYONS JESSIE
MACARIO-SAQUIC JULIANA
MACON ROBERT
MAGNESS GORDON
MAGNINI JACK
MAHAN ZACHARY
MAHONEY BRANDON
MALCOLM BRIAN
MALDONADO JORGE
MANES J R
MANNING DEON
MANNING JARED
MARCURI CHERYL
MARION LORNA
MARSHALL CHRISTOPHER
MARSHALL LANDON
MARTIN ANTHONY
MARTIN BRANDON
MARTIN JAMARIO
MARTIN MICHEAL
MARTIN ROBERT
MARTIN RONNY
MARTIN TONYA
MARTINEZ-GARCIA CONRADO
MARYNIAK VOLODYMYR
MARZETT JOSEPH
MASON PEARL
MASSEY ALEXANDRIA
MASSEY TASIA
MATTHEWS MARVIN
MAYERS JAMES
MCBRYDE WILLIAM
MCCABE WILLIAM
MCCAMMON MICHAEL
MCCANN JIMMY
MCCARY NICHOLAS
MCCLURE DANIEL
MCCORMACK DEVIN
MCCORVY LISA
MCCRACKEN JOSHOA
MCCRAY TRISA
MCCUISTION COLLEEN
MCCULLOUGH DWIGHT
MCDANIEL ALVIN
MCGHEE CLARISSA
MCGOWEN JAMES
MCGRATH ERIK
MCINTOSH LINDSEY
MCINTYRE DERRICKA
MCJOY KEVIN
MCKEE BEN
MCMACKIN WILLIAM
MCNEELY CHRISTOPHER
MCNINCH DAVID
MEADORS MARIO
MEADOWS BRIAN
MEADOWS LEMANUELL
MEDERO JULES
MEDINA ALEJANDRO
MEJIA JULIO
MELANO ELIGIO
MELELASHVILI TARIELI
MELTON DAVID
MENCHACA AIDEN
MENDEZ JUAN
MENDEZ-RIVERA SELVIN
MENDOZA DAVID
MESSEC JEREMY
MICHAELIS GARY
MILES WILLIAM
MILLER ALAN
MILLER AMANDA
MILLER BERNETHA
MILLER PAUL
MILLHOLLAND EDDIE
MINOR KATRINA
MINTON CODY
MIRELES JUAN
MITCHELL JEFFREY
MITCHELL MEGAN
MITCHELL RONALD
MITTS RICHARD
MIXON JASON
MIZELL MICHAEL
MOLINA JONATHAN
MONTGOMERY CEDRICH
MONTGOMERY WILLIAM
MOORE MICHAEL
MORALES RAUL
MORALES-RUIZ MARCOS
MORAN BRIEAN
MORENO HOOWER
MORGAN ROBERT
MORPHIS KEVIN
MORRIS TIFFANY
MORRISON MATTHEW
MORROW ERNEST
MORTON CHRISTOPHER
MORTON JESSICA
MOSES BRIAUNA
MOSLEY KAITLYNN
MOUSER KIMBERLY
MULLIKIN DEIDRE
MULLINS LINDSEY
MURPHY CHASE
MUSGRAVE RICHARD
MYERS KENNETH
MYERS MISTIE
MYERS MISTIE
MYERS MISTIE
MYERS MISTIE
MYERS TIMOTHY
NATHANIEL BYRON
NEELEY JAMES
NEGASH YONAS
NEHRING SAVANNAH
NELSON FELICIA
NEWBERRY CHRIS
NEWTON MEREDITH
NICASTRO SUSAN
NICHOLAS TREVOR
NICHOLAS TYTIANA
NICHOLS PHILIP
NICKOLS BRYCEN
NIELSON RODNEY
NIGHTINGALE E.H.
NILEY ROBERT
NIXON TIMOTHY
NOBLIN JACOB
NORMAN JAMIE
NORTON RANDELL
OAKS TONY
OCTAVE MARTEZ
ODUM GEORGE
OLA CARNEY
OLDEN FELICIA
OLDHAM KENNETH
OLIVA ARMANDO
OLIVER BRIAN
OLIVER WAYNE
ORTIZ BECKY
ORTIZ FERNANDO
OWEN LARRY
OZUNA CELAYA CLAUDIA
PAEZ KRISTIN
PARISH ANGELA
PARISH HEATHER
PARKER ARIC
PARKER KENNETH
PARKER MELISSA
PARKER TAMILA
PARKS DAVID
PATRICK RANDALL
PATRICK SUZANNA
PATTERSON SHAWN
PENDLETON NICKOLAS
PENNINGTON LINDA
PEOPLES JONATHAN
PEREZ AMY
PEREZ ARMANDO
PEREZ EDUARDO
PERKINS DALE
PERKINS JENNIFER
PERKINS JUSTIN
PERON JAMES
PERSONS ALESIA
PETERSON LARCENA
PETTITT KYLER
PHAN NICHOL
PHILLIPS CHARLES
PHILLIPS DAMOND
PHILLIPS JASON
PHILLIPS TEDDY
PHIMMACHAK C TAMMY
PIPPENS EMANUAL
PLUMLEY JOHN
POLLARD LASHON
PRATT SAMUEL
PRICE ARTHUR
PRICE DONNIE
PRICE JENNIFER
PRICE KATRINA
PRINE RICHARD
PROCTOR DALLAS
PROVENCE KAYLEIGH
PULLIAM RODNEY
PURVIS GLENN
QUILLING MICHAEL
QUIROZ JUAN
RAMIREZ ENRIQUE
RAMIREZ CUZ RUDY
RAMIREZ-VELASQUEZ JUAN
RAMOS MANUEL
RAMOS-MIRANDA MAYCON-JOHNNY
RANDALL ASHLEY
RANEY CURTIS
RANKINS DAMACUS
RASMUSSEN SHANE
RAY JEFFERY
RAY SCOTT
RAZO VICTOR
REDMOND BRIAN
REED ANDRE
REED JEFFREY
REED STEVEN
REEDY TERRELL
REESE KEAIRRA
REEVES ANDREW
REID ANAYA
RHOADS PHILIP
RHODES KEYNA
RICHARDSON QUINTON
RICHISON KATHERINE
RICKMAN BILLY
RIGGS JASON
RILEY MICHELLE
RIPPETO CHARLES
RITCHEY AMY
RIVERS RAVEN
ROBBINS TRAVIS
ROBBINS TRAVIS
ROBERDS MORGAN
ROBERDS MORGAN
ROBERSON MARK
ROBERTS CAMERON
ROBERTS MATTHEW
ROBERTSON MELISSA
ROBERTSON RACHAEL
ROBINSON BLASH
ROBINSON IRENE
ROBINSON LACRECIA
ROBINSON SHAQUITA
ROBINSON TANISHA
RODGERS CHRISTIAN
RODGERS ELIZABETH
RODRIGUEZ JUAN
RODRIGUEZ MIGUEL
RODRIGUEZ SERNA
ROGNE WILLIAM
ROMERO ERICK
ROMERO- CALERO FREDDY
ROSEBURROW JAMES
ROUNSAVALL KENNETH
ROY DWAYNE
ROYAL DALTON
RUBIO-HERNANDEZ VICTOR
RUHL BENJAMIN
RUIZ MARYSOL
RUMMEL WILLIAM
RUSAKOV OLGA
RUSSELL MICHAEL
RUSSEY KANEI
RYAN LARRY
SADLE HUBBARD
SAIN TERRANCE
SALAS FAUSTO
SALINAS-URBINA JAIME
SALLES-FILHO RICARDO
SALLEY CHRISTINA
SAMORAS JUSTIN
SANCHEZ URIEL
SANDERS TERRANCE
SANSOUCIE JASON
SANTIAGO DAVINA
SANTOS ERI
SANTOS JAVIER
SARABIA CARLOS
SCHEE SAMUEL
SCHERELL ANDY
SCHNEIDER ROBERT
SCHWARZER GLEN
SCHWEITZER STEPHANIE
SCOTT CHANDRIA
SCOTT SIERRA
SCOTT STEPHEN
SCOTT VELDA
SCURRY JOHN
SERDARU MARIUS
SHAFFER CAM'RON
SHAKUR ASANI
SHANNON ALFRETTA
SHARP CURTIS
SHAW CANDACE
SHAW CRAIG
SHAW JASMINE
SHAW JEREMY
SHAW NATASHA
SHEARS DEREC
SHEEHY ERNEST
SHELBY ANDREW
SHELTON ROY
SHEPHERD MICHAEL
SHEPPARD MATTHEW
SHERRODD SIERRA
SHIPMAN DEWIGHT
SHIRLEY JAMES
SIGARANGUERRERO JOSE
SIGMON SCOTTY
SIMMERS SHAWN
SIMMONS CHARLOTTE
SIMPSON BRANDON
SINCLAIR ERIN
SLATER XAVIER
SLAUGHTER BRENDA
SLAYTON MICHAEL
SMART MICHAEL
SMITH BENJAMEN
SMITH BENJAMIN
SMITH BRANDON
SMITH CARRY
SMITH CHANEL
SMITH CRYSTAL
SMITH DEEANN
SMITH HAROLD
SMITH JILLIAN
SMITH JOHN
SMITH JOHN
SMITH MARTHA
SMITH STEVEN
SMITH TEMISAN
SMITH TYRONE
SNIDER BELINDA
SNYDER JORDYN
SOLARES JUAN
SOLIS SUMMER
SOLIS AGUILAR THANIA
SOWDER ROBERT
SPANGLE SONYA
SPENCER JENNIFER
SPIVEY TONY
SPURLOCK PEGGY
STAFFORD APRIL
STAFFORD RITA
STALEY JOEY
STANLEY DAVID
STANLEY KING
STAPLER SILAS JR
STARKS-BENSON DAVINE
STEELE MARY
STEPHENS CHRISTOPHER
STEPHENS CRAIG
STEVENS TERRANCE
STEVENSON DITTRICH
STEVENSON JOHNNY
STEWART JAMES
STEWART LANCE
STEWART REBECCA
STICKNEY JEFFREY
STIVERS JOHN
STIVERS TARA
STOCK ANDREW
STOKER DANNY
STOUGH TANSILL
STOUT CAROLYN
STOVALL GARY
STROBOT CHRISTOPHER
STUBBS BRITNEY
STULTZ JACOB
SUBLETT TABATHA
SUTTERFIELD BRANDY
SUTTERFIELD MICHAEL
SWENSON KAREN
TALBERT ORVILLE
TATE TIEARA
TATUM MARILYN
TAYLOR JENNIFER
TAYLOR LASHAY
TAYLOR MARLO
TAYLOR SAMUEL
TEAGUE CHARLES
TERRY ROBERT
TERRY TRAVIS
THARIO MARY
THOMAS ALTELEA
THOMAS AULDEN
THOMAS JAMES
THOMAS JOHN
THOMAS LIVEZEY
THOMAS PAUL
THOMAS TASHA
THOMAS VERONICA
THOMPSON DANNY
THOMPSON JOHNATHON
THOMPSON LINDA
THOMPSON TAMMY
THOMPSON TRISTAN
THORNTON MARY
TIBBS ASHLEY
TICE AMANDA
TIMMERMAN MARCA
TIMMONS WILLIAM
TOLLE RANDY
TOLLESON CLARE
TONEY FREDERICK
TONEY SHAWNIKA
TOOMEY HUNTER
TORRES CARLOS
TORRES HECTOR
TORRES ISREAL
TORRES-SANCHEZ JORGE
TORREZ-ZELAYA JORGE
TOTO JOSEPH
TOVAR JESUS
TRAN DANH
TREVINO NORMA
TRICE SUNNI
TRIESCHMANN JOHN
TRUELOVE AMANDA
TUBE BRIAN
TUCKER KEMARIO
TUMEY JONATHAN
TURNER KIMBERLY
TURNER KRISTOPHER
TUTCHTON LISA
TUTTLE JESSICA L
TYGART BOBBY
UNDERWOOD STEPHANIE
UPTON RICHARD
URBINE MATTHEW
URIZAR CHRISTON
VANN ALEXANDER
VARDAMAN TEVIN
VASQUEZ VALERIE
VAUGHAN JUSTIN
VAUGHN CHRISTOPHER
VAUGHN COURTNEY
VAUGHNS BRANDON
VELA DANIEL
VELASQUES MIGUEL
VELASQUEZ JUAN
VELAZAQUES ALEJANDRINO
VENTURA DENIS
VERDUGO JOSE
VERKAIK JAMES
VERNET SIMEON
VICENTE JOSE
VICKNAIR DUSTIN
VILLALPANDO DANIEL
VILLARREAL RAMIRO
VILLEGAS-MARTINEZ MIGUEL
VIRES JASON
VIRGIN DONALD
WADE LEVI
WALKER ERIN
WALKER KIRK
WALKER SHAWN
WALLACE QUINCY
WALLER SHAWNA
WALLS THAYON
WALTER ALLIE
WALTERS SIERRA
WALTHALL STEPHEN
WARD REBECCA
WARD TERANN
WASHINGTON CHARLES
WASHINGTON DERRICK
WASHINGTON KELSEA
WATERS SHERMAN
WATERSON CASEY
WATKINS RAMONA
WATTS AARON
WEAVER RALPH
WEBB KRISTINA
WEDGE TRUDY
WEEKS TARIA
WEGENKE RICHARD
WELLS DARIN
WERNER DANA
WESTBROOK MONA
WESTCOTT BRIAN
WESTERFIELD VICKI
WESTERMAN RHONDA
WESTHOFF TYLER
WESTMAN JACOB
WESTON BLAKE
WHITAKER JACOB
WHITE CLAYTON
WHITE KIMBERLY
WHITFIELD KENNETH
WHITMIRE TREY
WIATRAK SARAH
WIEGAND CHRISTOPHER
WILES CLINT
WILEY ANNIE
WILKERSON BRADLEY
WILKINS BILLY
WILKINSON DAVY
WILKINSON ROSWITHA
WILLIAMS ANDREW
WILLIAMS BLAKE
WILLIAMS DONNA
WILLIAMS JOSEPH
WILLIAMS MELANIE
WILLIAMS MICHAEL
WILLIAMS NICKY
WILLIAMS PAMELA
WILLIAMS STEVEN
WILLIAMS STEVEN
WILLIAMSON JOHN
WILLIE MICHAEL
WILLINGHAM PHILIP
WILSON BRYAN
WILSON CHERIE
WILSON CONNIE
WILSON JOHNNY
WILSON TANYA
WILSON THERESA
WINDER AARON
WINDLE JASON
WINDSOR GEORGE
WINNIE LORI
WITHAM WALTER
WOLFE BURTA
WOLFE JENNIFER
WOOD REBECCA
WOOD TRACI
WOODARD WILLIAM
WOODHAM JAMES
WOOLDRIDGE JOSHUA
WOOTEN LARRY
WORMAN CRYSTAL
WRIGHT MONTRELL
WRIGHT STEVEN
WRITTENHOUSE LISA
WYLES JOYCE
XILOJ-MEJAI SERGIO
YANG CHOR
YARBER KRISTY
YARBER MICHAEL
YEAGER RAY
YOUNG BILLY
YOUNGBLOOD CORTEZ
ZAMORA GERMAN
ZAMORA MIQUEL
ZIMMERMAN BROGHAN
ZUCARELLI TIMOTHY