Wanted Sex Offender
09/21/2018
UPDATE:
On September 24, 2018, Investigators went to an address on Beaverfork Road where John M. Bailey was located and arrested. In addition to his Class C Felony warrant for Failure to Register as a Sex Offender, he had an outstanding warrant for Absconding. John M. Bailey is currently in Unit 2 awaiting first appearance.
******************************************************
Faulkner County Major Crimes Unit is asking for your help on any leads or information on the location of John M. Bailey.
John M. Bailey is wanted for Failure to Register as a Sex Offender, due to providing a false address and failing to register on his six month verification of residency date on February 1, 2018.
Investigators went to locate Mr. Bailey at 162 S. Church St. Vilonia, AR 72173, the registered address that Mr. Bailey provided. When investigators arrived in the area there is no listed address as 162 S. Church St. Vilonia, AR 72173. Pursuant to 12-12-909, the offender is required to verify their residence within Ten (10) days after the Verification of Residency date indicated on the bottom portion of the acknowledgment form.
Verification of residency is required of every registered offender either every (6) six months after registration, or every ninety (90) days, depending on the offender's assessment level. According to 12-12-909, Mr. Bailey would be due to register no later than February 11, 2018. Pursuant to §12-12-904 (a)(1)(A)(iv) it is a Class C Felony if a person Files false paperwork or documentation regarding verification, change of information, or petitions to be removed from the registry.
John Bailey provided false information when he came to conduct his Verification of residency. According to recent information, Mr. Bailey could be in the Conway area.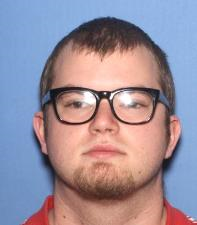 SEX OFFENDER'S INFORMATION
NAME: John Michael Bailey
RISK: Level 1
RACE: White
SEX: Male
HEIGHT: 601
WEIGHT: 195
HAIR COLOR: Brown
EYE COLOR: Brown
DATE OF BIRTH: 7/5/1990
If anyone knows of the whereabouts of John Bailey please contact Inv. Vanda Phillips at 501-450-4917.