Lt. Wooley Awarded "The Patriot Award"
03/08/2017
Faulkner County Sheriff Tim Ryals and the Arkansas Employer Support of the Guard and Reserve (ESGR), a Department of Defense (DoD) office, announced Lieutenant Chad Wooley was honored March 8, 2017 with a Patriot Award in recognition of extraordinary support of his employees serving in the Guard and Reserve.
"The Patriot Award was created by ESGR to publicly recognize individuals who provide outstanding patriotic support and cooperation to their employees, who like the citizen warriors before them, have answered their nation's call to serve," said Jane English, Arkansas ESGR state chair. Lt. Wooley was nominated for being highly supportive of the Arkansas National Guard SFC Walter Hart of HHC (Recon) 1-153 39th Infantry Brigade. Supportive supervisors are critical to maintaining the strength and readiness of the nation's Guard and Reserve.
SFC Hart said, "Lt. Wooley takes very good care of me and all Veterans amongst the ranks of the Faulkner County Sheriff's Office. I can remember during my first interview for the job he made it very clear he loves hiring military personnel because we are already disciplined, well trained, mentally tough and we listen and obey orders. I have a deployment coming up 2016, annual training during last summer and my monthly drill status Lt. Wooley and the shift sergeants went about and beyond to make sure I was taken care of."
ESGR, a DoD office, seeks to foster a culture in which all employers support and value the employment and military service of members of the National Guard and Reserve in the United States. ESGR facilitates and promotes a cooperative culture of employer support for National Guard and Reserve service by developing and advocating mutually beneficial initiatives, recognizing outstanding employer support, increasing awareness of applicable laws and policies, resolving potential conflicts between employers and their service members, and acting as the employers' principal advocate within DoD. Paramount to ESGR's mission is to encouraging employment of Guardsmen and Reservists who bring integrity, global perspective and proven leadership to the civilian workforce.
For more information about ESGR outreach programs or volunteer opportunities, call 1-800-336-490 or visit www.ESGR.mil.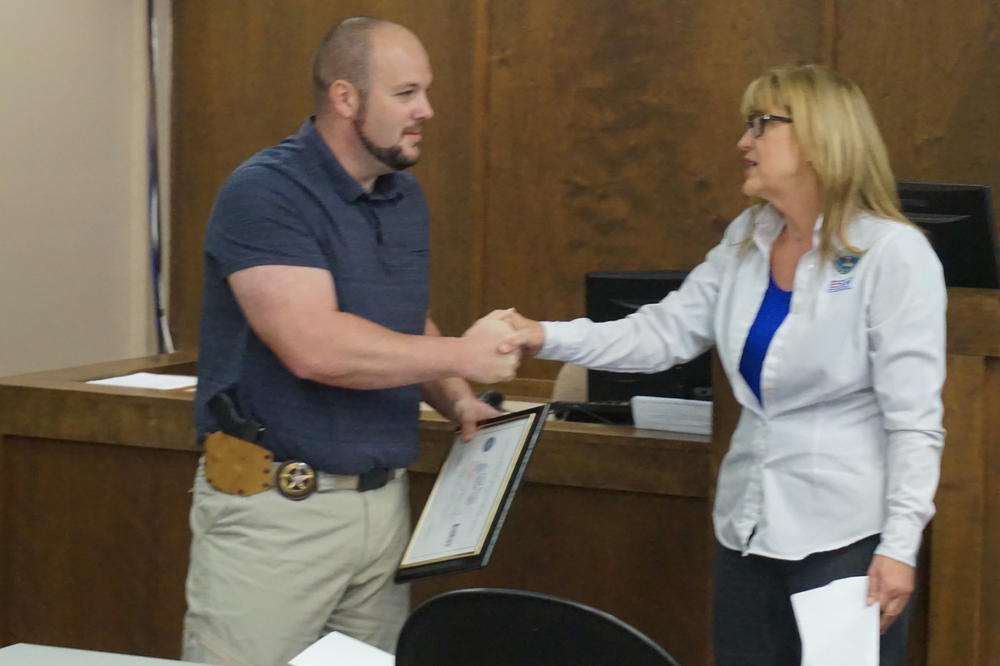 Lt. Chad Wooley with Leanna Higginbotham of Employer Support of the Guard and Reserve