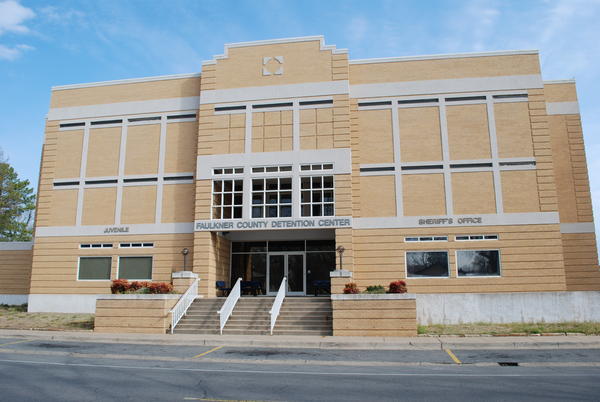 Detention Center Unit 1

Detention Center Unit 2
Detention Officers are responsible for the care, custody and control of all individuals arrested in Faulkner County. The Faulkner County Detention Center is a full service facility providing nutritious meals prepared onsite by inmates who have been given trustee status or in the 309 program. Trustees also perform many daily tasks under the supervision of Detention Officers to include; laundry, cleaning, and minor routine upkeep of the Detention facility. The Faulkner County Detention Centers will hold up to 462 detainees and has 87 Detention Officers overseeing the detainees.
Booking: This unit consists of Intake, Identification, Classification, Inmate Supervision, Admit/ Discharge, Property/Discharge, and Property Control Officers. Their primary functions are as follows: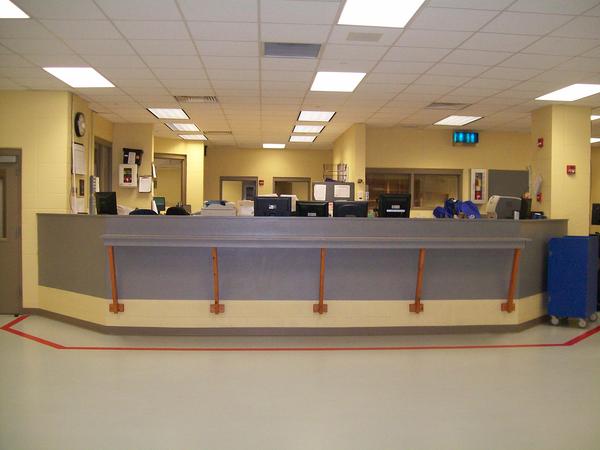 Booking Desk
Intake: Initiates a booking computer record for individuals brought to the Faulkner County Detention Center Unit Two, either under arrest or committed by a court in Faulkner County.
Identification: Takes fingerprints and photo images of all detainees booked at the Faulkner County Detention Center Unit Two, keeps and maintains records of the same.
Classification: Does an assessment and Suicide Prevention Screening Form; makes medical and mental health referrals as needed. Initiates appropriate precautions to safeguard detainees, when necessary. Provides and obtains entrance information from each detainee as well as answering any questions they may have.
Inmate Supervision: Introduces and explains the concept of direct supervision to all detainees. Observes detainees as they are being processed through booking and tracks their progress.
Property: Responsible for securing, storing, and tracking property taken from detainees at the time of booking.
Discharge: Conducts the process of discharging detainees out of the Faulkner County Detention Center, which includes returning all property and mailing back the money belonging to them. Collects all property issued to the detainee during their incarceration.
Housing: The Housing Section provides a secure, humane living area for incarcerated persons. This section is responsible for supervising detainee activity, orienting detainees to the operation of a Direct Supervision Facility, and managing detainees in general population, medical, mental, health concerns.
Medical: The Faulkner County Jail has a Physician, RN and a LPN on staff. Detainees are seen by a physician who approves all treatment and medications to inmates. Inmates may see a physician at his/her request, and cost, at the physicians next scheduled visit.
Commissary: Detainees with money in their account may purchase a variety of items (soda, candy, toiletries etc.) from commissary. There are limits on what may be purchased by the detainee.
Phone Calls: Phones are available 8:00 AM till 10:00PM in "day-rooms". All calls are to be collect or pre approved account; ALL calls are recorded and subject to monitoring.
Visitation Hours:
Male detainees: Monday, Wednesday, Friday at 2:00pm, 3:00pm, and 8:00pm.
Female detainees: Tuesdays and Thursday at 2:00pm, 3:00pm, and 8:00pm
Visitors to the Faulkner County Detention Center are subject to searches and are limited as to what they may bring into the jail. Visitors must provide a valid identification. Persons under 18 years of age MUST be accompanied by an adult guardian or parent. NO exceptions! Emergency visits may only be authorized by the Sheriff or Jail Administrator. NO exceptions! There is a 30 minute limit on visitations and you must call 501-327-0380, 24 hours in advance to make an appointment.