**We have recently revised our tow policy. If you have already printed the policy please replace with our revised copies. We will not accept applications unless they are the revised copies**
The Sheriff's Office has updated the policy for tow companies. This update allows all tow companies within Faulkner County the opportunity to apply for addition to the county's rotation. This new policy also applies to companies already in the county's current rotation. All documents must be typed not handwritten, signed, and returned to the Sheriff's Office. Documents must be received by the Sheriff's Office no later than 4:00 pm, June 30th for consideration.
- Completed application packet.
- Driver information form - Each Driver for your company must complete this form.
- Signed Tow Policy letter.
Click here for the Tow Policy Policy_Towing for Applicants.dotx
Click here for the Application form Form_Rotation List Application.dotx
Click here for the Driver Information form Form_Rotation List Application_Attachment2
---
Did you know that fraud victims over the age of 50 years old account for over 57% of all fraud and many among us are likely to have been or will be affected by elder fraud. President Trump has signed into law the Elder Abuse Prevention and Prosecution Act and given the heightened interest in this subject. The Faulkner County Sheriff's Office receives countless calls per year regarding calls of fraud. Many of the fraud calls are focused around the IRS or someone stating they'll be arrested unless...
Here's a link for a guide to help people avoid and detect elder fraud - http://ctech.link/elder-fraud. Information is also available by visiting the Arkansas Attorney General's website.
Be sure to talk with those around you about fraud calls to help protect your friends and family.
---
Faulkner County to Participate in the American Medicine Chest Challenge
Faulkner County Sheriff's Office will be coordinating the American Medicine Chest Challenge in Faulkner County
The event will take place on November 09, 2013 in communities across the country. This initiative will encourage Faulkner County residents to take the Five-Step American Medicine Chest Challenge:
·

Take inventory of your prescription and over-the-counter medicine.

·

Secure your medicine chest.

·

Dispose of your unused, unwanted, and expired medicine at the prescription drug drop box located at the Faulkner County Sheriff's Office. (801 Locust Street Conway, Ar 72034)

·

Take your medicine(s) exactly as prescribed.

·

Talk to your children about the dangers of prescription drug abuse.
To help combat this growing threat to our nation's children, we are hosting the American Medicine Chest Challenge (AMCC) on November 9, 2013. Residents can find a local collection site on www.americanmedicinechestchallenge.com or dispose of their medicine at home, following the guidelines on the site.
The most recent National Survey on Drug Use and Health shows prescription medicines to be the most abused drugs by Americans, other than marijuana and found that 70% of people who abuse prescription pain relievers say they got them from friends or relatives. A recent study on drug use by of teens by the Partnership for a Drug Free America (PDFA) found that one in 9 children are abusing prescription pain relievers to get high.
"This Challenge will raise awareness about the dangers of abusing prescription drugs and reduce the availability of potent drugs that lead kids down a path to addiction,'' explained American Medicine Chest Challenge Chief Executive Officer Angelo M. Valente.
"With the American Medicine Chest Challenge we are calling on residents to see their medicine cabinets through new eyes -- as an access point for potential misuse and abuse of over-the-counter and prescription medicine by young people," explained Valente.
The American Medicine Chest Challenge has gained the national support of PhRMA, The Partnership at DrugFree.Org, the Generic Pharmaceutical Association and the American College of Emergency Physicians.
The Faulkner County Sheriff's Office has a prescription drug drop box for unused or expired medications located in the front lobby of the Sheriff's Office. Medications can be dropped off 24 hours a day 7 days a week. The box is located at 801 Locust Street Conway, Arkansas (Faulkner County Sheriff's Office). No paperwork is required to drop off the medications. All you have to do is drop the medications in the secure drop box and leave. The only things not acceptable to place in the drop box are syringes.
Contact: Investigator Cody Babb 501-450-4917 or cody.babb@fcso.ar.gov
Angelo Valente, AMCC, angelo@americanmedicinechest.com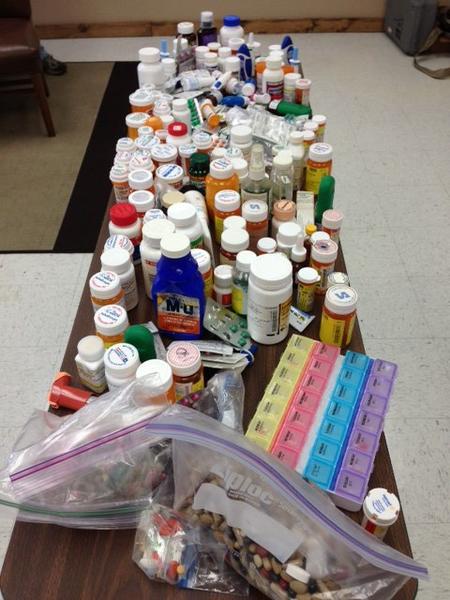 ---